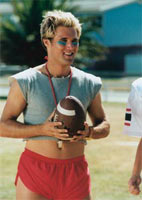 There are more muscles to be seen than in all the Miss Universe competitions added together, more sit ups and more push ups than there are shiny teeth glistening in the sun in Sunset Cove.
Yes, here is where Coach Shane reins supreme as the most muscle bound guy in town – or anywhere for that matter. Shane loves to relax and keep himself toned on all the gym equipment. If you come in here you may see Shane reclining in his giant jacuzzi, slapping on great amounts of moisturiser lotion to keep him supple and smooth – or bascially just lounging on a sun lounge soaking up the intense heat of Sunset Cove's sun to improve his near perfect suntan.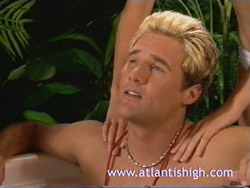 Josh Montana can also be seen here occasionally getting advice from his mentor (Coach Shane) about suntans, love, sport, love, superheros, love, how to look good, love – and he really appreciates Coach Shane's game plans.
So if its basketball or philosophy then Coach Shane's your man and the gym is where he likes to hang out.