Fluffy Pink G-Strings….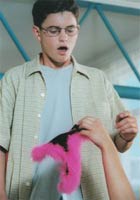 This infamous article first reared its fluffy head in episode one of Atlantis High when Sabrina dropped it in to new boy Giles Gordon's school bag.
Sophie May discovered it in the midst of a science lecture and Giles' head was sent spinning. He had no idea as to how the offending article got in to his bag. Of course it was common knowledge that any underwear produced by child labour in politically unsound countries was banned from Atlantis High at that time and the g-string caused a huge outcry in the classroom. Giles was thoroughly humiliated by the discovery that he was unknowingly harbouring such an item.
Giles soon found out why the pink problem had turned up in his bag. Octavia Vermont informed him that the fluffy frippery was actually destined for her own bag. It seemed that Sabrina had major jealousy issues to contend with and had been mistaken Giles' bag for Octavia's.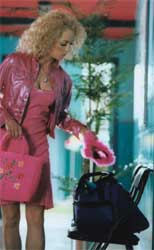 The fluffy pink g-string has since made several cameo appearances, as worn by the local crime fighter and overall superhero extraordinaire, Silver Lining.
Silver Lining has a penchant for super tight, super pink items of a superhero nature and poses with obvious joy. The pink fluffy version is sometimes swapped for a black Lycra one but it seems that the original is the great favourite of our sexy Silver Lining.
The g-string has turned up more than once in various strange places throughout Atlantis High and could be considered to be something of a good luck charm for Giles. Apart from it forming part of Giles' first conversation with the lovely Octavia, another example of the fluffy ones appearance is the time it turned up on the hook of his school locker. This actually led him to the discovery of the secret passage behind his locker, which in turn gave him an eyeful of the lovely Octavia and introduced him to his big – eared new school pal, Beanie Weanie.
The g-string has been lucky for Giles. Will it have the same effect on other Sunset Cove residents? Will Silver Lining continue to wear it with pride? We will have to wait and watch and wonder…