"Austin Powers meets Happy Days meets Greece"
Atlantis High takes a humorous look at the stereotypical world of soap television, movie stars and aliens.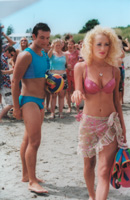 Atlantis High, from the award-winning television production company Cloud 9, is a spoof melodrama that captures the milieu of soap television in a zany, creative and visually colourful way.
Imagine a world where aliens rule supreme, bronzed hunks and beauty queens mingle with secret agents and superheroes, and the Underworld takes on a whole new meaning.
Set in a stereotypical American High School reputedly built on the lost city of Atlantis, Atlantis High is pure family entertainment that will appeal to all ages.
Created by Raymond Thompson, Chief Executive of Cloud 9 Screen Entertainment, Atlantis High revolves ar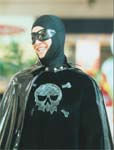 ound themes that deal with human drama and interplay, alien discovery, love and teenage angst. The series pays homage to the great soap operas and spoof television movies of our time, such as the icon series "Soap", and the themes of coming of age explored in classics like American Graffiti.
"Atlantis High is an affectionate send-up of soap television and encompasses everything stimulating about television, and will really challenge an audience in an unique way entertaining them from start to finish with surprising twists and turns — every step of the way" says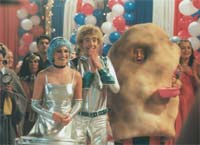 Mr Thompson. "This is a series which pushes creative boundaries, let alone the imagination to the very limits and far beyond".
Available as 26 x half-hour episodes, the series follows the adventures of a 16-year-old nerd, Giles Gordon, who moves with his eccentric mother (Dorothy) and Grandpa to Sunset Cove, a beautiful coastal surfing town where the sun is always shining, the people are all beautiful and where everything is perfect . . . or so it seems.
But Giles soon discovers that the inhabitants of Sunset Cove are in fact com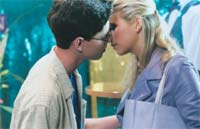 pletely wacky and eccentric characters, especially the students and teachers at the new school, Atlantis High.Giles' world is turned upside down as he encounters students with pointy ears, blue hair and psychic powers, teachers who are obsessed with their looks and who have a fondness for eating rodents; andsecret rooms, double-agents, conspiracy theories and wild imaginations.
Atlantis High features innovative special effects, spectacular soapy story lines, mystery, suspense, shaky sets, auteur camera angles and a whole lot of fun, craziness and heart. 
Expect a wild roller coaster ride as Giles tries to discover the mystery surrounding his new home. As the adventures continue to unfold, his life is about to change forever in ways he never expected . . .