MR DORSEY'S – DID YOU KNOW – CHRISTMAS GREETINGS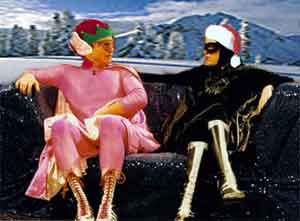 How much do you know?  Mr Dorsey, the best teacher in this universe, challenges you – what do you know?  Mr Dorsey has taught the lesson below and claims everything is true – but we believe only 50% of Mr Dorsey's 'facts' are actually truths and the other 50% is false.  Can you spot what is true and what is false?  Can Mr Dorsey be trusted?  Is 100% of what he teaches correct?  Maybe not in this universe – is he instead really out of this world?

How people say 'Merry Christmas' around the world.
| | | |
| --- | --- | --- |
| | | |
| Latin – Natale hilare et Annum Faustum | | |
| | | |
| Vietnamese – Chung Mung Giang Sinh | | |
| | | |
| Eskimo (Inupik) – Guumjuphli jad | | |
| | | |
| Hawaiian – Lei Leu Kremaleleleelee | | |
| | | |
| Maltese – Specinder Caltender | | |
| | | |
| Maori – Meri Kirihimete | | |
| | | |
| Thai – fad Thom Valmuka | | |
| | | |
| Slovak – A malalivy Nami ar | | |
| | | |
| Romanian – Sorbatori vesele | | |
| | | |
| Iroquois – Oj enyunyat sungwiyadesan honungradan nagwutut | | |