VORTEX, XERON AND NEBULA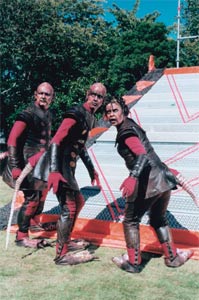 A trio of intrepid aliens from the star system Fenorg – Vortex, Xeron and Nebula are on their way to Earth to rescue their alien kinsman, Mr Dorsey, none other than the science teacher of Atlantis High…
Vortex, Xeron and Nebula accidentally crash land their spacecraft and miniturise themselves in the process, thereby encountering a variety of adventures from all kinds of wildlife (and other residents of Sunset Cove) on their quest to reunite with Mr Dorsey…
The three aliens find Earth creatures to be very bizarre and have many funny moments as they try to blend in with humans.
Des Morgan (Xeron) – Sam Husson (Vortex) -Lyndee Jane Rutherford (Nebula)
Sam has acted in a wide range of roles in television, the stage and advertisements. Sam enjoys writing. Sam has been in other Cloud 9 productions including Twist in the Tale and portrayed the crazy character tophat in the smash hit series, The Tribe.
Lyndee has extensive acting experience in both television and stage, including many comedic roles. She has also had a role in The Tribe.
Des has spent 20 years in television starting with "Close to Home" in 1983 and finishing with "The Strip" in 2001. Des has worked extensively in theatre and television throughout this time.