GILES GORDON ON BUYING A PRESENT
ADVICE CAN BE NICE
I have got lots of advice on what to get:
DON said buy a bag of crisps. Nice one Don, sure that would impress Octavia…
JET said buy a book about conspiracies…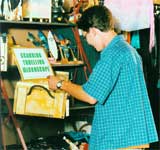 BEANIE said buy some ear muffs.
COMMANDER VERMONT said buy Octavia a thermo-thermo power submarine to play with in the bath tub…
MRS VERMONT said just go shopping and buy everything in site – then buy it all again for fun – and after that, return it all to the shops, get a refund and go shopping again. Hmmmm…
THE BEAR NECESSITIES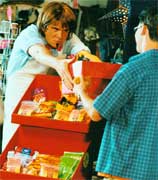 I walked into an old shop full of old things (including an old shop-keeper). Sophie was hot on my heels – she seems to be stalking me. Oh oh…
What to buy? An old scarf? A mug? A nice painting? A bad painting? A CD? A sculpture? A tea bag?
I spotted a teddy bear. It looked very cute and had an adorable expression. It seemed to fit like a glove (I mean I didn't try to put it on my hand – it seemed to fit for Octavia). It was cute, fuzzy – a bit like me. That's it then – if any present would do then that's the one!
WRAPPING
I asked the man in the shop to start wrapping. He replied by twirling around, doing a dance and saying "You walked into my shop – now you're gonna stop, listen to what I say – how you gonna pay?" It seems he thought I wanted him to start "rapping"…
He then said "Would I like a bag?" and I replied "No thanks, I'd like to buy the teddy bear"…
Well, I'm off to the diner to give Octavia my present – will she like what I got? And more importantly, does she like me? Keep watching to find out!!