JOSH MONTANA ON SUPERHEROES
| | |
| --- | --- |
| "Oohh, hey ladies…and dudes. I want to take you through my guide to superheroes. This is what you might call a lifelong interest for me, a passion even. Something I like to think about when I'm not dreaming of the beautiful Octavia or looking at myself in the mirror. You want to admire me? Hey, go ahead baby. You others can just read my guide to these cool dudes with their satin capes. Antonia did the typing for me – this is my guide to superheroes…" | QUICKTIME MOVIE ON SUPERHEROES |
ATLANTIS HIGH AND SUPERHEROS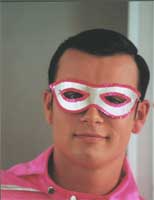 Sunset Cove is a great place to live and the main reason for that (apart from me living here) is that Silver Lining makes sure that Truth Honour and Justice prevail. There are no major problems in this little piece of paradise. Just some hassles caused by Sophie's poltergeist.
But just lately some strange things have been happening and Silver Lining has been kept busy.
There have been missing radiation bombs and evil beekeepers to deal with. And all the trouble that the new kid geek boy Giles Gordon gets into on a daily basis.
It's lucky that there's such a good-looking hunky Superhero like Silver Lining to look after things and keep the community safe in the knowledge that they can sleep well at night – and admire Silver's pink costume during the day. The Silver Lining is but a phone call away. Always on duty (or just leave a message on my cellphone if I am busy…).
I'm a great fan of Superheroes and read all about them. I read their comic books and watch them on TV. They are like my family.
MY FIVE FAVE SUPERHERO O

UTFITS ARE:
1. Pink lycra body suit, pink fluffy g-string (sometimes an alternate black lycra over boxers with white J on pouch), pink boxers boots, pink satin cape and pink eye mask –the SilverLining. This look has it all and it works as well in the High Street as up a tree. Versatile and body hugging, this has got to be my top favourite.
2. Black all-over lycra/rubberised suit with white spider emblazoned on front. Black built-in boots, glovesand all-over head covering – Spider Man. This look is cool. It shapes the body and is a real out on the town superhero outfit. Hides the face though which is a minus point. Not many people like spiders though so they could be scared…
3. Black leather pants, black open neck shirt, black satin cape, black sash worn round the waist, natty little black hat and a black eye mask – Zorro. Now this is a hot look, great for the lusting ladies. Sexy, suave. Superhero. My favourite part of the whole outfit is the waist sash. I love the way it blows in the wind. Maybe it seems this guy is always out to make a point though?
4. Cream colouh web detail on arms, lred suede cowboy hat, red neck tie, black eye mask, cobalt blue shirt and pants, black leather gloves and a silver studded black gun holster – The lone Ranger. This is an all time classic outfit. the vers


atility of it is great because it's hard wearing yet figure hugging. Hi ho – away!
5. Red and blue all over body suit wit
egs and head, spider emblazoned on the front built-in boots and gloves – Spiderman. Yes, good old Spidey again. He's got style this guy and I love his use of blue. Check out his website too.
TOP 3 SUPERHERO SAYINGS:
It's really important that the superhero has a good line. This makes your enemies quiver in fear, makes ladies adore you – and is a fun thing to say:
1. "Truth, Honour and Justice Awaits" – The Silverlining. This says it all. This guy is caring, proud and honest. And good looking too. Oh – and modest!
2. " Hig
h Ho Silver Away!" – The Lone Ranger. I love this line! It makes me want to jump on a horse nd gallop to the rescue of some damsel in distress. A real macho line this one. But I get sore if I sit in the saddle too long. Owww…
3. " To the Bat Cave Robin" – Batman. This phrase has a certain mystery to it and I like mystery. It's clean, it's strong and it's a good one. And if you say it loud enough, it alerts the bats in the cave that you are on your way so you they can clear up the cave…