MRS VERMONT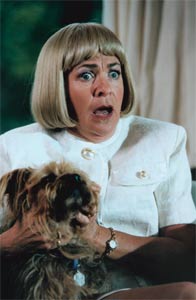 Octavia's mother is a 1950s cliche American mother. She seems to have walked straight out of a television commercial and is always "offering" products to people she meets. Glamorous and well-dressed she has an impeccable appearance yet her behaviour is to say the least – unpredictable. Is she human or an android? If so, where did Commander Vermont meet her? And what is the implication for their daughter – Octavia.
Why does she always seem to be in such a good mood? Why is everything so perfect from the outside with the Vermont house – are there in fact secrets that are hidden inside?
Jane Waddell
Jane brings the part of Mrs Vermont to life on the screen with great vitality and exuberance reflecting her considerable acting experience in television, film and the theatrical stage. Jane has also appeared in Cloud 9's Enid Blyton Secret Series, The Legend of William Tell, and William Shatners Twist in the Tale.