OCTAVIA VERMONT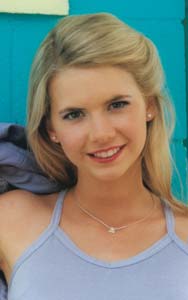 Giles is captivated by his classmate, Octavia, who is a vision of loveliness to him. Seemingly perfect in every way, she is also very enigmatic. Does she represent the Head Boy, Josh Montana? Or is she really a double-agent for the mysterious "Q"?
Octavia has a brilliant intellect and is skilled in music, science, foreign languages, sports, literature. How can a girl at high school know so much about so much?
And is there a chance she really is attracted to Giles Gordon? Giles certainly hopes so…
Elizabeth McGlinn
Elizabeth attended Auckland University studying marketing, film, tv and media studies and also trained with Vanessa Alexander. She has played a number of characters on both stage and screen, including Justine on the NZ tv drama Jackson's Wharf and Valentine in Shakespeare's Twelfth Night.