Victoria Spence plays Antonia/Antony in Atlantis High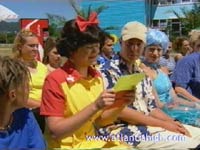 Favourite colour?
Victoria – Blue
Antonia – Yellow
Best subjects at school?
Victoria – English and Art History
Antonia – Science with Mr Dorsey!!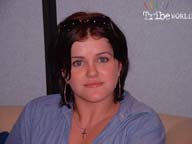 Victoria – Maths and any science's
Antonia – Sports
Hobbies and interests in time-off?
Victoria – Horse riding, shopping, dancing
Antonia – Love letters and poetry
Favourite quote, phrase or motto?
Victoria – Live life to the fullest
Antonia – "He loves me!"
Left or right handed?
Victoria – right
Antonia – right
Favourite food?
Victoria – Italian and Chinese
Antonia – Blue fluffy milkshakes!
Heroes or heroines?
Victoria – Wonder Woman
Antonia – Antony and Mr Dorsey

Size of feet?
Victoria – 5 1/2 – 6
Antonia – 8
Height?
Victoria – 173cm
Antonia – 183cm
Eyecolour
Victoria – blue
Antonia – blue
Glasses or contacts?
Victoria – No
Antonia – No way!
Nickname?
Victoria – Tor, Tori, Taz, hey you!
Antonia – Only ever Antonia (never call her Antony!)