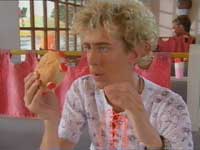 In town can be found the popular local diner. It is here that Giles' mother, Dorothy Gordon, works occasionally as a waitress.
The diner specialises in hamburgers, hot dogs, fries and milkshakes.
Many students (and teachers) from Atlantis High meet up in the diner after a busy day at school to catch up over the latest gossip and news — and to enjoy a delicious (if not too nutritious) meal.