The Missing Radiation Bomb…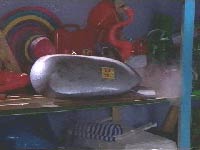 A military mishap? Or the work of an evil force lurking in Sunset Cove? An alien device, planted by some green lizardy creature? A plot by Sabrina to get rid of her arch enemy Octavia Vermint once and for all?
Episode one saw a near disaster averted at the last possible second when Giles Gordon managed to unactivate the missing radiation bomb.
News first hit over the local radio that the radiation bomb was missing, stolen by a psychotic Jet Marigold whilst on a fruit eating binge. Giles managed to track it down before local superhero Silver Lining could after following the trail of fresh fruit peels left by Jet. Giles located the bomb at Atlantis High school but what about the detonator?
The lovely Octavia Vermont gave Giles some vital information in the ladies powder room and provided the necessary pantasodium triphoshate. This was the additive that Jet demanded in exchange for the detonation device. Giles then needed to find the key to the detonator and discovered it with Octavia's help in a crate full of illegal underwear.
The day was saved – hip hip hooray – but still, where the bomb came from originally, nobody really knows. Where it was intended to end up nobody really knows. What it was intended for in the peaceful town of Sunset Cove, nobody really knows. And how Jet managed to steal it, nobody really knows. It is just one of the many Atlantis High mysteries…