LEW SIFFER'S GUIDE TO SUPERSTITIONS AND PROPHECIES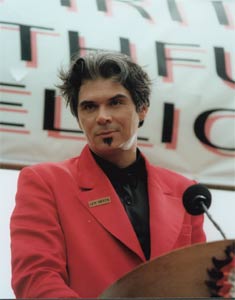 Other Prophecies and Superstitions
Have you ever walked under a ladder knowing it was bad luck? Have you ever thrown salt over your shoulder thinking it was good luck.
There are many superstitions and a number of famous prophecies. Nostradamus was a famous prophet. He was a famous 15th century Frenchman who made a name for himself making predictions. Reputedly some of his predictions came true. He made a successful career as stockbroker because he always knew how to predict the shareprices. But he was banned by the government for betting on races.
Throwing salt over your shoulder is supposed to bring good luck. But it's not a very popular superstition – often the salt is mistaken for dandruff and occasionally it is thrown without looking and gets into someones eyes. Sunset Covers like this one though and they've added to it – they now throw salt, pepper, knives and custard pies.
The number 13
Defintely thought of as an unlucky number for some – however it is considered lucky in Russia.
The number 13 is considered unlucky due to Frug Frugenstein who was a 13th child, born on Friday the 13th – year 1313. He was born at 13:13pm and riddled with bad luck from the moment he was born.
One summer's day Frug Frugenstein sneezed while riding his horse and he fell off just at the time when his horse was suffering from a bout of flatulence – the horse fainted and fell on top of him. He was then struck by lightning.
Rabbits Feet

Rabbits feet are considered a lucky charm and have been for centuries. But rabbits were unhappy about this and were sick of hobbling around the countryside on their stumps. The rabbits were so upset that in 1618 it led to the Great Rabbit Rebellion.
Through this period the prosthetic rabbit limb industry thrived.
The Four Leaf Clover
The four leaf clover is a symbol of good luck and they are collected around the world. In an effort for the above mentioned Frug Frugenstein to regain some luck in his life he ate 47 bowls of four leaf clovers thinking they would change his life. They certainly did because unfortunately he had accidentally picked high fibre spinach and spent the next six weeks sitting on his lavatory.