COMMANDER VERMONT'S GUIDE TO SIS INTELLIGENCE SERVICE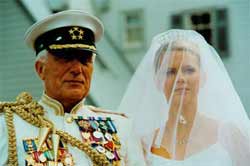 Vermont's five tips on how to be a good SIS serviceman
Here's what you need to know:
1 – Play dumb, that way your enemy will think they're smarter than you and let their guard down
2 – Keep your B52-mag water soaker full and on you at all times – you never know when it might be needed to hose down the tank.
3 – Always discipline yourself – if you do something wrong, slap yourself around a bit to teach yourself a lesson.
4 – Hup 2, 3, 4, is very important – learn your numbers before you enter the SIS.
5 – Disguise is important – go to some fancy dress parties and try your stuff.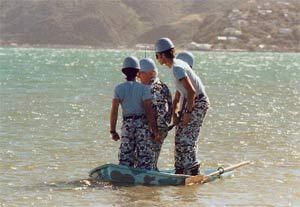 The Uniform
Sunset Cove is not your average town but catching a glimpse of the SIS in the town is not unusual. We're not hard to spot in our camouflage uniform which consists of a beach floral design in keeping with the entire style of Atlantis High. But when I'm going to a formal occasion I wear my official white dress uniform.
My Medals
I've received many medals throughout my career. Most are for bravery but some are also for geniusness, best dressed in the field, most quickly accomplished mission, and for being Miss World Commander of the year.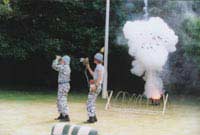 The Missions
We've made many missions over the years and they've all been adventures. One mission was to find the needle in the haystack – the mission was set to take 100 days but we managed it in 7.
Our next mission was to determine how long a piece of string is – this was the only mission we failed to complete – apparently it's never been done.
Recently we had to track down an alien presence in Sunset Cove which proved to be a rather hard task…
So there you go – the SIS is full of fun and adventure. God speed to you all.