GILES GORDON ON THE BEACH
| | |
| --- | --- |
| "Hi, I'm Giles Gordon. My life changed forever in many ways when I moved to Sunset Cove with my Mum, Dorothy, and my crazy Grandpa. The beach is one of the most popular things with people in this wacky town – and this is my guide to it…" | |
SUNSET COVE BEACH
10 things you won't see at the beach:
Giant monster octopuses

Fish sunbathing

People selling melted ice creams

Aliens on holiday

Someone living in a sandcastle

Antarctic explorers

Polar Bears playing volleyball

Leonardo Di Caprio

A snowman

Guys wearing bikinis
"Everyone goes to the beach in Atlantis High – Sunset Cove's beach is famous. It has endless miles of golden sands stretching further than the eye can see. It is breathtaking. Every day seems to be hot, hot, hot and there are always bronzed hunks and beach babes lazing under the sun making themselves look more tanned and more beautiful than ever. My ears hurt on the beach – the waves are so big and loud, the surf is always "up" here and it is a paradise for surfers (I


only wish I learned to swim as surfing looks fun – and attracts loads of beach babes!).
A HUNK OF HUNKS
"Eeek. I try to keep clear of the Sunset Cove beach because there are more muscles on these miles of sand than in all the gyms of the world combined. I don't look like Mr. Universe but more like a "nerd" and stick

 out like a really sore thumb.
On the beach there are guys with arms wider than my waist – lifting huge weights and pumping iron to make their muscles even bigger. Muscle-guys do press-ups like there is no tomorrow.
10 things you may see at the beach:
Swimmers in the waves

Sunbathers

Surfers

Kids making sandcastles

Lifeguards

People selling ice creams

People renting chairs to sit on

Weird wormy shapes in the sand

Dogs running about

Joggers getting exercise
There are all kinds of beach sports being played everywhere you look – beach volleyball, beach soccer, Frisbee, hacka-sack, catch, swimming. More sports on one beach than the Olympic games".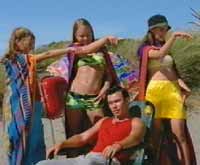 BEAUTIFUL BABES
"Oh but the babes! Surely Sunset Cove is the place where the world's supermodels grow up and make themselves look beautiful on the beach!
Lounging around in the sun (surrounded by guys) are some of the wonders of the world. Ocean girls with teeth like pearls, flowing hair that makes guys stare. Sometimes I feel like I do love the beach after all and don't want to return home – but make the beach my new home instead…"