JOSH'S GUIDE TO POOL PARTIES
| | |
| --- | --- |
| "Everyone knows my family has the biggest pool in Sunset Cove and we have had more than our fair share of parties. Here are some of the Montana family secrets to throwing the pool party of your lifetime." | |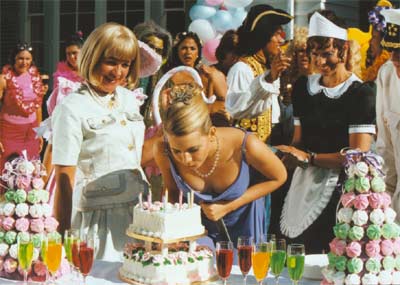 Number 1 – Make sure that you have a pool
This is so good it's bad. I went to a pool party one time and the poor deluded girl didn't even have a pool. She thought that she could just buy one of those blow up plastic kiddy pools and that would do. It was okay for a while but the water wasn't heated and by the time I had done a lap I had chilled my toes so badly that I had to sit on a hot water bottle for three and a half days.
There were a lot of people there and several got crushed and badly bruised when a diving competition was held.
The girl is now in therapy (and traction) and is not expected to make a full recovery. Still, she managed to get a doctor to fall in love with her and he is now going to build her an Olympic sized pool so that she can have a real party.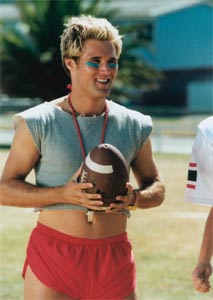 Number 2 – Invite the right people
I always think long and hard before I get Jeeves to write the invites to one of my pool parties. There have got to be the right number of babes there who know how to fill a swimsuit and I never ever invite any geeks to my parties. They would just make me want to vomit into the pool if they showed their knobbly knees in their underdaks and that would sure spoil the fun.
Coach Shane is a sure bet for coming along to the party. He can do the best synchronized swimming I have ever seen and that always gives me the chance to watch the babes join in and I love it when they wear those little pegs on their noses. It reminds me of my nanny when she used to change my diapers.
Number 3 – The Pool
Of course my family have the best pool in the world for pool parties. It's really classy. It is big and heart shaped with a diamante mosaic at the bottom of our family portrait. All around the pool are pink tiles that glow fluorescent in the dark and the pool itself is always at least 30 degrees warm.
We have a waterfall the size of Niagara at the end of the pool and there are so many blow up fish floats in the pool that some people think they have walked into an aquarium.
We make sure that the pool is skimmed every day by Sven the Skimmer and it looks so clean that you can't help but dive right in off the championship diving board.
There are mirrored tiles all around the edge of the pool so that whether you are out of the water or under the water you can see yourself and check out your form.