JOSH'S GUIDE TO A HOLDUP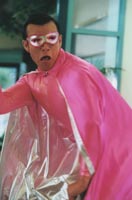 Giving Evidence
If you're lucky enough to survive the holdup with no frost bite from the frozen chicken then you may be called as a witness.
Five things to remember when in Court
Don't cross your fingers when you're swearing your oath – that's just not truthful
Don't swear or you'll be in contempt of court
Wear your best outfit – you could end up in the press!
Make sure you get your story straight – don't want to end up incriminating yourself or an innocent party.
Don't laugh at the judge. Judges are very straight faced and the faintest bit of giggling will not be tolerated
I've been a witness a number of times. It's really quite a thrilling experience. You're all high and mighty and important and someone's fate could rest in your hands – now how's that for power!!
Tell the whole truth and nothing but the truth. In a court of law you have to abide by their rules and this includes telling nothing but the truth.
Often after a trial I get swamped with fans wanting my autograph but in a court you must behave appropriately so I always say "no comment"..