Loren Horsley plays Sabrina Georgia in Atlantis High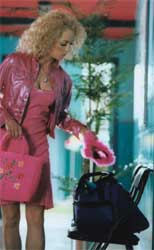 What are your characters strengths and weaknesses? Weaknesses – Silver Linings lips, money and the colour pink. Strengths – Her hair and breast size.
Are you like your character in real life – if so, then in what ways? I like to wear tight pants – and that's it.
What do you do between scenes?
Pace. Sleep. Make fun of Mikey. Play soccer until makeup catches you and yells for sweating off your makeup.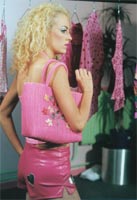 Favourite phrase, quote or motto?
"Imagination is more important than knowledge" Einstein?
Favourite book of all time?
Complete works of Oscar Wilde and Pale Fire by V. Nabokov
Favourite actor/actress?
Cate Blanchett, and Peter Sellers