SABRINA GEORGIA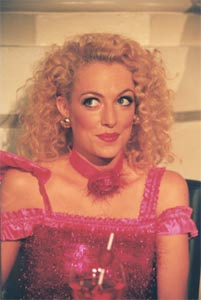 Uptight and upfront, Sabrina is very catty and scathing to her fellow students. She is possessive of head boy Josh Montana – and detests Giles for his lack of style, taunting him as an "attention seeker". Sabrina adores fashion and always does her best to look good – she wears the trendy "reb-elz coolwear" and is an influential – and unpredcitable – member of the high school.
Her love of fashion is matched only by her love of money and wealth – and she will do what she can to capture the richest catch in town, Josh Montana – even if it requires dressing up as a supervillain?
Loren Horsely
Loren has been acting in major NZ productions since 1998 when she appeared in Young Hercules. In 1999 she was the lead actress in the feature film KOMBINATION. She has also starred in Xena and the theatre show Sun and Moon Collide as well as other theatre productions.