SOPHIE MAY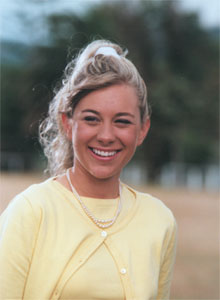 Bubbly and vivacious, Sophie is a well-meaning happy airhead – and quite ditzy. With her infectious giggle she befriends Giles – but other students keep their distance from her. She has another side to her – Sophie seems to have psychic powers and when she becomes anxious or upset, objects start floating around and some very odd things begin to occur around her…
Sophie also claims to have had later on an alien encounter and she becomes obsessive over Giles Gordon, who does not share her interest.
Many residents of Sunset Cove are also puzzled by Sophie's toy rabbit, Mr Fluffy Muffin…
Lucy Gamble
Lucy is 17 years old and had only just left high school to join the core cast for Atlantis High. She has already appeared in the Cloud 9 production of William Shatner's Twist in the Tale – The Green Dress and held the lead roles for Shakespeare's MacBeth and Twelfth Night.