BEANIE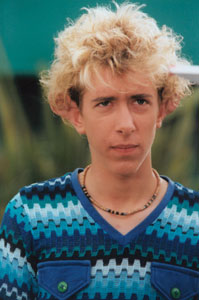 A kid with weird ears, Beanie befriends but also disturbs Giles and there is something about him that is literally out of this world. Beanie has a habit of searching the skies and drawing flying saucers, which he claims to see in his dreams… will Giles ever discover the mystery surrounding Beanie?
Beanie does not know his own origins and doesn't fit in with the other kids around – but he develops an attraction for the feisty Jet Marigold.
Todd Emerson
Todd is 16 years old. He has been acting since 1996 when he appeared in the Secret Garden. He has also been in Kids World, Her Majesty and NZ tv drama Shortland Street. Atlantis High is Todd's first feature role for television.