THE ATLANTIS HIGH GUIDE TO HAIR STYLES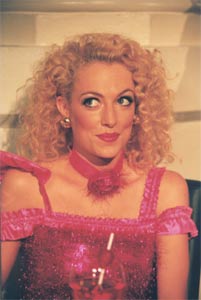 Sabrina Georgia Sabrina has blond hair in tight fluffy curls. She's proud of her hair – it helps her stand out in a crowd. Sabrina didn't always have curly hair.

When Sabrina was younger she had the straightest hair you've ever seen. One day her mother brought her home a puppy – a poodle. Sabrina was amazed at the dogs curls! She decided then and there that she wasn't ever going to have straight hair again.

Sabrina now spends 2 hours once a fortnight in the most expensive Dog Groomers in town. She's well known for her tight fluffy curls and no-one knows how she does it.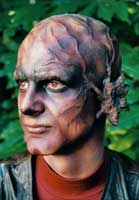 The Aliens
The aliens in Sunset Cove don't have hair. Their "head" style consists mainly of large veins.
They have been caught out a couple of times imitating people combing their hair. Which can be a messy business for some aliens with sharp combs and large veins…
The Anti Hair campaign
Not everyone makes a style out of the hair on their head. Recently there have been collectors strolling the street of Sunset Cove. Their cause is "Women against Shaving". These woman believe in facial hair and underarm hair and this is their style.j
These same women have formed a new club in the last few months "The lonely heart club".