VIOLET'S GUIDE TO HALLOQUEEN
| | |
| --- | --- |
| "Easter, Christmas, Summer Holidays – pah! I want to tell you a little bit about a celebration I like to get involved in that not many outsiders know about… Halloqueen" | |

HOW HALLOQUEEN CAME ABOUT…

You'll all have heard of Halloween when kids get dressed up as their favourite ghost or ghoul and run round the neighbourhood asking for candy.
Well here in Sunset Cove we celebrate something different in the second week of October.
Halloqueen is a celebration of the feminine side of us all and as far as I know it is only celebrated here where people can be whatever they want to be and individuality is embraced by one and all.
It all started in 1962 when Larry Larrikin moved to the Bay from the Big Smoke over the hill. A milkman by trade, Larry first set eyes on the Bay when his milk float took a wrong turn at the top of Paradise Point, the brakes failed and in came the milk float at a rate of a hundred miles an hour, down the hill and into the Bay.
Screeching to a halt outside the Princess Diner, Larry was welcomed with open arms by the owner, Queenie and given a cup of tea with plenty of sugar for the shock.
What Queenie didn't realize was that Larry wasn't in shock because of the runaway milkfloat but because he thought that Queenie was in fact the Queen.
It seemed that Larry had suffered a bad concussion when his milk float had crashed and as he looked up into the eyes of the owner of the Diner he said "Hallo Queen."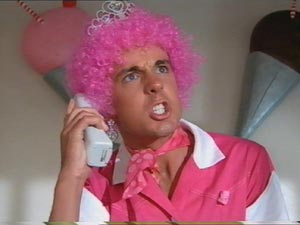 Larry gave up his job as a milkman and started up the first milk bar in Sunset Cove, the Queen's Head and it was a great success. Larry was welcomed into the town by all and he got on particularly well with the Big D and the Hells Bikers who made sure that no trouble took place in this drinking hole. They had a particular love of milkshakes and smoothies – no one could rustle up a better banana smoothie than old Larry.
Larry became a stable part of Sunset Cove's culture and took a great interest in all aspects of life in the town. He became a Committee Member of several clubs and was the main fundraiser for Atlantis High and the Kindergarten.
He remained best buddies with Queenie and they always had a laugh at the way they met for the first time.
Life was peachy until one dark October night. Larry had locked up for the night and strolled over the road to the Princess Diner for a quick chocolate sundae before settling in for a night of soap operas and reality TV.