VITA'S GUIDE TO DANCING
CHACHACHA
Five Dances of Sunset Cove
The Tango
The Chimichanga
The Tra la la
The Chicken Dance
Swan Lake
My most favourite time to dance is when I am alone. I can dance in the shower. I can dance when I cook my dinner. I can even dance when I am asleep.
My Mama said that when I was a young girl I used to wake up the household as I performed Swan Lake in my sleep. It was all okay until I grabbed a hold of my brother and sister's hands and tried to get them to dance with me. They weren't too happy because they were trying to sleep and got scared when they woke up on the High Street in the moonlight.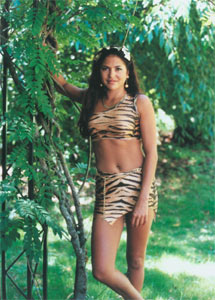 I really love to dance at the beach under the stars and it is best when the waves are crashing up around my ankles and the wind blows my hair. The sand is a great dance floor and if you can get the seagulls to join in then you almost have a show worthy of the West End.
My dancing has got me into trouble before though. One night Commander Vermont was called in to question me as the military thought that I was a witch dancing a spell on the High Street. There was a full moon but I do not think that I looked like a witch. Holy Banales, I had to chant and howl to give myself a tune to dance to. Anyway, the Commander seemed to think that I was trying to make contact with a spacecraft and so he actually joined in with my dance and let me tell you something, that man can howl like a wolf.
I like to dance to keep myself fit and a lot of people like to copy my moves. Violet tried to copy my backward shuffle jive but her wig fell over her eyes and she ended up at the Bay Hospital with whiplash and an injury to her handbag. She got addicted to grapes and mandarin oranges when she was there and then had to stay in for another fortnight because she had a Vitamin overload.
Anyway, I think that everyone should dance and I would like to finish this by saying that if all the world was a stage then all the people would be dancing. And if you would like to learn to dance then just listen to the music in your head. Even if it is the theme tune to Coronation Street then just put your flat cap on, tuck your pigeon under your arm and dance the night away.