VITA'S GUIDE TO DANCING
| | |
| --- | --- |
| "Yes, it is true that red-blooded Latinos love to dance and I want to tell you all about my love of it." | |
TANGO OR NOT TANGO?
It is the traditional dance of love, the tango. And it is the dance that I love to love. I get into my spangly dress and climb into my strappy sparkly sandals and grab myself a partner. Shane is the one that I normally choose because he has real rhythm and his toned torso looks so good when he gets a lycra spandex suit on.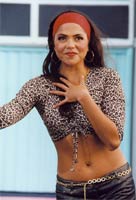 Picture this – Sunset Cavern on a Sunday afternoon. All the residents in their finery after a stroll along the beach. Sure they have sand in their hair and up their nostrils but it all adds to the atmosphere.
I take Shane by the hand and lead him out onto the dance floor as Gilbert and his team of unprofessional musicians strikes up the first tune. They normally start out with the Three Legged Flight of the Flamingo but I am so ready for a tango that I take up my position anyway.
Shane stares into my eyes – Shane says, "So that I can see my reflection" – and we start to dance. Faster and faster; as the flamingo takes flight we twirl and twist around the dance floor. The sparkles on Shane's suit catch the light of the disco ball and flicker intriguing shadows on his face. The flickers set off an epileptic fit for Madame Buffet but we carry on with our dance of passion, as there are plenty of people trained in the arts of first aid.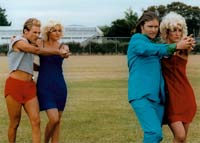 Shane stops only to make sure that everyone is watching him as Madame is taken away in an ambulance and then we twist again, twist ourselves into a whirlwind of sequins and spangles.
As the music stops I catch my breath and try to still my beating heart. I look up into Shane's face and he looks as if he is about to kiss me, the passion of the dance transferred into the passion of his heart. But he is just falling over as his sports shoes slip on the highly polished wood of the floor. We fall together and the lights come back on. The dance is finished. The aerobics class is about to begin and Shane leaves me to change back into his shorts to lead the class.