Post-production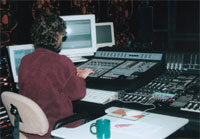 When all the cast have gone back to their normal lives, the crew are on "downtime" and the studio resembles a ghost town, the post production team are still hard at work in their darkened rooms!
Once filming has been completed for each episode, it goes through the post production process. This department works closely with Chief Executive Raymond Thompson to make sure that the overall look and sound is the one that he wants for the series.
First stop is with the editor who, along with the assistant editors, has the huge task of choosing shots from all the footage and piecing it together to form a rough cut of the episode. This rough c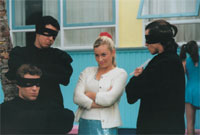 ut gets sliced and glued many times in order to pull the story together in just the right way.
Next stop is with the music editor who chooses the right music for each scene. There is a vast amount of music for him to choose from on Atlantis High as the soundtrack was written specifically for the series and there is a lot of it! This editor has to watch each scene carefully in order to get a feel for it and to know which piece of music suits it best. The track is then cut together and laid down.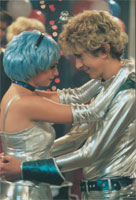 On to the sound designer who adds all the strange and wonderful noises and sound effects from the alien spaceship and the aliens themselves, to the running water in the shower. This designer works closely with the dialogue editor who has to make sure that the dialogue can actually be heard and that it fits in with the lip movement of the actors. ADRs (or Additional Dialogue Requirements) are sometimes needed and the dialogue editor re-records the actors speaking their lines. Other ADRs such as crowd noise is also recorded.
Across the corridor is the mixing suite where the dubbing mixer works his magic from a NASA style control board. All the levels are checked so that the music is not too loud, the dialogue too quiet, etc.
Last stop is with the post production manager who colour grades the episode and makes sure that the sky and sea are suitable for the high standards in Sunset Cove!