SUNSET COVE TV…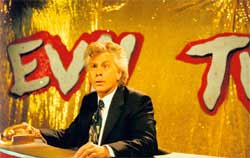 Sunset Cove's very own television channel, Sunset Cove TV (sometimes known as Evil TV and headed by the decidedly dodgy Lew Siffer) is watched by most residents of this sunny piece of paradise, and most particularly by Grandpa Gordon.
There are some fascinating programmes on this station but it is the roving newsmen who make tuning in something really special with their instant reporting skills.
These reporters are literally everywhere and nobody can escape their scrutiny. They are around when the Silver Lining saves the day and when the cook burns the spaghetti sauce at the Princess Diner.
The presenters of Sunset CoveTV all look alike and it is hard to say whether they are related, cloned, alien lifeforms or actually just one and the same person, changing their appearance slightly for each programme.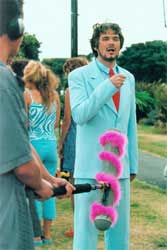 The very fact that normal high tech gadgets are ignored by these reporters might well point to the fact that there is something otherwordly or supernatural going on.
Microphones are often not used and reporters (like the one on the right) can often be seen talking into their hands.
However this does not seem to hamper the sound quality of the programmes and viewers claim that they can understand every little word that is being spoken.
It is unclear as to exactly where the studios for Sunset Cove TV are located as most of the footage is shot outdoors in and around the town, at the beach and at Atlantis High.
It is said that Lew Siffer has been planning some kind of daytime tv deal with headmistress Violet Profusion for a new show on Sunset Cove TV and the residents of the Cove are eagerly awaiting further news of this.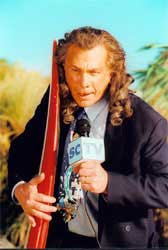 Some of the best news flashes have developed at the beach. Many a volleyball game, surf competition and Coach Shane tanning updates have been shot here but what the residents really get the feeling for is that reporters are actually on the lookout for the lost city of Atlantis.
It has to be said that one of the highest rating shows on this station is the weather report. Although every day in Sunset Cove is gonna be hothothot, residents still like to watch the happy face of the weatherman telling them that nothing had changed. They just love to know that they are going to be getting some more of Mr. Sunshine's special A-ttention.
Sunset Cove TV is most definitely a great part of life, a cultural must in this beautiful area of the world. Residents are very glad to be able to keep up with the weather, news and special interest programming as well as to find out what gossip there is in their town.
They actually get to find out what is happening next door faster than if they were to stand at the window twitching the nets or to look over the fence!
Now that's quality television at its best.