ANTONIA'S GUIDE TO LOVE

| | |
| --- | --- |
| "Hi, I'm Antonia and I've been in love with the hunk of my life, Anthony. But now he's gone and I think we've split for good! Love can be good and bad – I know a lot about love and this is my guide to it…" | |
FALLING IN LOVE
10 famous couples:
Anthony and Cleopatra
Anthony and Antonia
Romeo and Juliet
Heathcliff and Cathy
Sonny and Cher
Strawberries and cream
David and Victoria Beckham
Superman and Louis Lane
Apple pie and ice cream
Morecambe and Wise
I remember when Anthony and I first fell in love. Anthony actually did fall for me – he tripped over my books at school (I had deliberately dropped them to get his attention) and we soon fell for each other.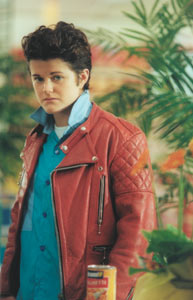 Why do you fall in love?
Well there are different schools of thought on this. Some scientists say it's all to do with how you smell. There's something called "pheromones" and people smell you and are attracted by your pheromones (weren't they a 70s pop group my Mum listened to?). I loved the smell of Anthony's pheromones – and he wore a nice aftershave too.
Other scientists say that it's due to chemistry – although I prefer Mr Dorsey's physics class. How can chemistry have anything to do with it?
And there are age old sayings like "opposites attract" to explain falling in love. But hey, that can't be true!
I'm really pretty and a nice person – why would I fall in love with my opposite who would be really ugly and horrible? That's just weird…
Apparently love may also have something to do with the birds and the bees but I'm not sure how this could be so. Is it because love gives you a buzz (like bees)? Or you feel all chirpy (like a bird) when you're in love? I don't know.
But for whatever reason, people fall in love.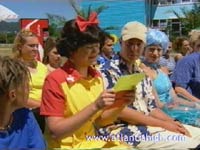 In love but not in love???
Sometimes people are in love but keep it a secret and don't tell each other. I know Giles is in love with Octavia – he goes crazy whenever she strolls by. But he seems too scared to tell her.
Does Octavia like Giles in return? I don't know for sure – maybe she does, maybe she doesn't but she's not letting on for now.
Other times, people say they are in "love" but use this as an excuse to get something else. Sabrina is always chasing after Josh. Yes, he's good looking but I think she likes him more for the fact he is amazingly rich – she's after his wealth rather than him as a person.