BEANIE'S GUIDE TO GANGSTERS
| | |
| --- | --- |
| "Hi I'm Beanie and recently I've come to know a few gangsters. I don't know much about them but I've heard a few things and this is my guide to Gangsters." | |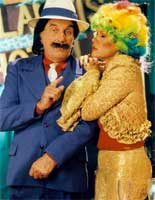 MR NITE
ecently Giles and I ran in to Mr Nite. He is the head honcho moncho of the gangsters in Sunset Cove. Giles told me we should do everything we could to be nice to Mr Nite because he was a man in high places – but I didn't think he was that tall.
Mr Nite who owns the casino won the school from Ms Profusion. I'm not sure why he would want the school but it's been rumoured that he might have plans of an elementary gangster school in mind. He already owns the casino, the gym, the mall, and 80% of the beach sand. It's been heard that the other 20% is under negotiation with the current owner Mr Beech but he seems to have disappeared.
Mr Nite is a well dressed guy – but his moustache looks incredibly like a large fluffy catepillar. Word has been going around that Mr Nite had an unfortunate accident when he was younger with a catepillar and some superglue.
Mr Nite came into the diner one day to see Violet and negotiate a deal. We made him a special lunch of Italian meatballs. Giles let me make them and Mr Nite thought they were great! Here is my recipe: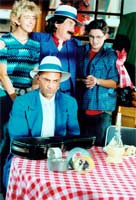 Bubble Italian Meatballs
500g mince
1 onion
1/2 a cup of dishwashing powder
3 cups of chillis
1/2 cup of peppercorns
1 bucket of salt
1 packet of pasta
Mix all ingredients together and cook for 3 seconds in hot pan. Serve to head honcho moncho gangster.
This recipe is sure to get you in the good books!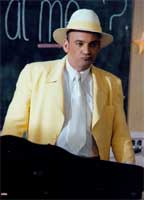 BEANIE'S FIVE TIPS ON HOW TO BE A GANGSTER
"So how do you get to be a perfect gangster? Here's my five tips on what you need and what you do:
1 – Wear – 1 very expensive Italian suit, a large brim hat, an obtrusive moustashe, a large trench coat
2 – Always carry around your violin case.
3 – Drive a big car with black windows
4 – Always have a box of expensive cigars handy to offer around and help clinch the deal
5 – Hire a hit man for those dirty jobs