BEANIE'S GUIDE TO GANGSTERS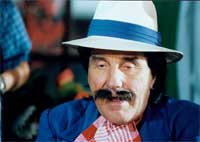 THE TOP FIVE GANGSTERS IN SUNSET COVE
There are a quite a few gangsters in Sunset Cove but most of them keep a low profile – just doing their duty under the watchful eye of Mr Nite. He's everywhere you know….
Here are the top 5
1. Mr Nite
2. Beanie Capone
3. Terry Soprano
4. Pomadoro Canelloni
5. S Pagetti III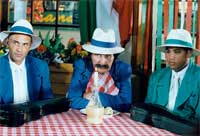 The gangsters in Sunset Cove even have their own television station that shows only Gangster movies including Goodfellas, Untouchables, The Godfather, and re-runs of The Sunset Sopranos. There have been other Gangster shows that never made it to the screen – The Gangster Cooking Show and Fun to Learn with the Gangsters ABC.
Like most Gangsters the ones in Sunset Cove have a long history of earning a fast buck. In fact one of the first gangsters ever in Sunset Cove was S Pagetti – he invented spaghetti in 1582. He quickly saw what a lucrative business it was and wanted to expand. He started making children's spaghetti shoelaces but soon found parents complaining because the children were eating them and their shoes were falling off.
His next venture was in concrete shoes which were a great success – he made a name for shoes that last forever! But unfortunately S Pagetti lost his life in a tragic accident – He invented concrete flippers and trialed them one morning of the coast of Sunset Cove.
BEANIE – A GANGSTER?
"I don't think I want to be a gangster. From what I've heard they boss people around to get their own way and even make people disappear! I thought that only Magicians could make people disappear. I'm an individual and don't think I need to be part of a gang and Giles says its not a good idea.