GILES' GUIDE TO FAMILY SECRETS…
| | |
| --- | --- |
| I've just started my own talkshow called Simply Sophie. I've always loved talkshows and talking and meeting people and it really is my forté. So I'm going to tell you everything I know and love about talkshows. | |
SIMPLY SOPHIE
5 unbelieveable talkshow topics:
Your cousin's, uncle's, sister is my lover!

My sister is marrying our family dog!

I lost 10,000 pounds in 2 weeks!

I survived 10 years on the moon.

I lived in a sandcastle all my life.
Simply Sophie was really Violet's idea. I'd volunteered myself to be Teen-Moral Counsellor at school and Violet thought about turning it into something even bigger!
So Violet has been managing my career as a chat-show-advice teen-queen!
I like to do all sorts of stories, especially ones that cause a huge commotion – those ones are so fun.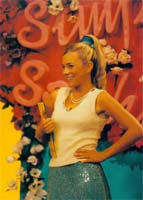 THE HOST
Hosts of talkshows are often household names – some famous ones are Janola, Jif, and Scotchbrite. Prior to Sophie the only talkshow host in Sunset Cove was the Invisible Man. His talkshows didn't go down too well, a number of complaints came in within minutes of his show starting complaining that they couldn't see him.
THE AUDIENCE
The audience of a talkshow is usually a mixture of people but is it a real cross section of society? Are they just people wanting to have their five minutes of fame on tv. Perhaps they are hired hands or actors paid by the tv companies. I've even heard that aliens like to go to talkshows and sit in the audience and study up on human behaviour.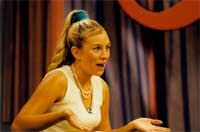 Talkshows cover all sorts of issues including Relationships (good and bad), Food, Lifestyle, Makeovers and Mind and Body.
Some talkshows focus totally on relationships and often the bad ones – there are some crazy people out there! But here at Simply Sophie we just like to tell the truth!
Sometimes the makeovers are great! And other times they should never have even started to think about trying to make themselves look any better. If you're ugly then you're ugly – just be happy with yourself.