COACH SHANE ON FOOTBALL

""Hi, it's me – Coach Shane. There was a big football game at Atlantis High lately. Everyone has their opinions on sports – but especially me. I am the world authority on football and this is my guide to it"

EXCLUSIVE

QUICKTIME MOVIE COMING SOON
ORIGINS OF SPORT
It's healthy

– yep, all that running around and sweating is good for you – and your body too. You'll be healthy and fit in no time.


To impress people

– I have always found that babes love to watch guys run around on a field. Look at those cheerleaders digging my muscles. If you play sports, people will be impressed and love you and ask for your autograph.
It

'

s good for your skin tone

– let's face it, everyone wants nice skin tone don't they? I have found if you play sports then you may get muddy – and a mud patch is good to give you lovely skin tone. Mud is free and saves you buying moisturiser.
Now not a lot of people know this but the first sport happened in the year 2 million and four B.C. That's BC for "Before Cricket". It happened that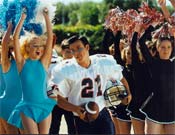 on a cold night in Caveman Urg's cave, Urg and his wife were having a rock fight (they were arguing) when suddenly Urg's wife picked up a tree and struck a round rock that Urg threw at her. That's the true story of how baseball was invented (it was called Rockball in those days). But there was no cable tv to watch it on 2 million years ago…
WHO NEEDS A COACH?
On to the present day. Well, since those days when sport was invented there have been lots of other sports that have developed – like cooking, ironi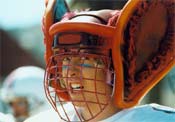 ng, tap dancing, jogging, cricket, and my favourite – wearing shorts! – ooops, I mean – football!
Well what is a Coach you may be asking? Some coaches are used to carry people around (you take a coach to get somewhere). But the type of coach I am is the guy (or girl) who gives you advice on how to play the game – who inspires you with the gameplan. You gotta make sure you have the right moves and get with the rhythm to enjoy your sport – and the coach helps you with this.