COACH SHANE'S GUIDE TO SPORT
| | |
| --- | --- |
| "Hi there, I'm Coach Shane. I'm the coach of the Champion Football team. We've got the winning combination and it's all because of yours truly. Here's my guide to Sports. | |
My
=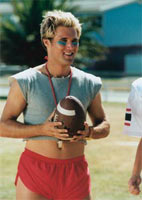 My 
MY FAVORITE SPORT
All sport is fantastic! You're part of a team and you're there to have a good time.
There are many sports I coach – Soccer, Latin American dancing, hockey and of course I help the cheerleaders out with their moves and their suntans.
But my favourite sport would have to be American Football. The tackles, the gameplan, the touchline!! It's so exhilirating!
I've been coaching the school football team for two years now and we're champions! We've won the inter-schools championship two years running.
Josh is my star quarterback. There's nothing this guy can't do. He's got all the moves and talent that will take him to the top – with my coaching of course.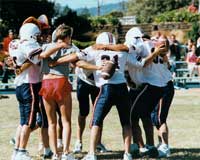 COACH SHANE'S 5 POINT GAMEPLAN FOR SPORT
How do you play with a winning attitude? Here's my tips:
1 – The Moves – Get a winning combination and refine it. Listen to the calls made by your fellow team-mates and everything will fall into place.
2 – The Gear – It helps to have the right gear for protection and this includes shoulderpads, a codpiece for those delicate places, and padding everywhere else you can stick it. Those tackles hurt!
3 – The Fans – Fans at a game can make all the difference. The screaming and yelling really gets you moving. And a winning smile goes a long way.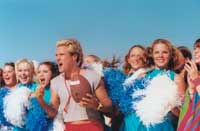 4 – Cheerleaders – These babes are fantastic for making a guy feel important – when you feel important your game improves – and who knows you might end up going home with one after the game.
5 – Recovery – Football can take a toll on your body. After a game you should run yourself a nice aromatic bath and relax.