COACH SHANE'S GUIDE TO SPORT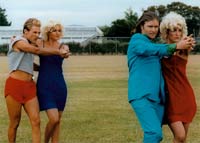 LATIN AMERICAN SPORT
Latin American dancing is the ultimate sport! Well I think it's a sport. I enjoy practicing on the playing field with the wind rushing through my hair.
My teacher is great! He knows all the moves and says I'm coming along quite nicely. He says I have natural rhythm which I already knew.
The babes love it when you can strut yourself both on the playing field and the dancefloor. There's something about holding a women close and prancing around – although sometimes I wish you could do it all by yourself – I mean sometimes it's hard to find someone that can dance as well as yourself!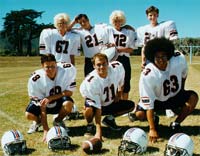 MIRROR SPORT This is a game I invented myself. I love myself, as we all know and quite often I'm in front of a mirror – I like to pull faces at myself and see which expressions suit me most. I've found some amazing poses that just bounce right back at me!
I am the most good looking guy in Sunset Cove – and I know it.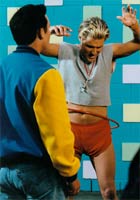 THE HOOLAHOOP
The hoolahoop has been around for years. It's great exercise. It keeps your waist slim and firm.
I was a hoolahoop champion in my school days – which wasn't too long ago. We had a marathon hoolahoop day which was to raise money for the school gymnasium. I won the top prize by hoolahooping for over 5 hours non-stop. The girls loved it!
Only problem was that after 5 hours I couldn't stop, I wiggled all the way home.