DON'S GUIDE TO GROCERY SHOPPING
| | |
| --- | --- |
| "Hi, Don the janitor here. When I'm not cleaning the floors of the school my favourite thing in the world is to head on down to the Grocery Store. I have been to a lot of stores in my time but the Damascus Dairy is my favourite and I'll tell you why…" | |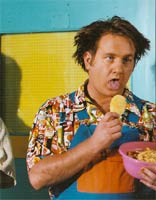 DAMASCUS DAIRY
There are 27 and a half aisles in the superette and all of them start with the letter D. D is for Don and D is for the big D and D is my favourite letter. D is for drinks and D is for donuts and D is for delicatessen, mmmm.
The Sunset Superette is owned and run by 3 nuns and an ex-con. Ralph the Rampant was the single most successful smuggler of smurfs in the southern coastline. He smuggled tens of thousands of the little blue guys to stores all over the coast who were not allowed to order them from the distributors due to the chemical imbalance of the seaweed.
The seaweed chemicals algae beta beta and seaC interacted with the blue colouring on the smurfs and the little dolls would start dancing for hours on end if they came into contact with the chemicals.
Cute yes but annoying too as the smurfs would insist on singing the Papa Smurf song over and over and OVER again as they tangoed down the terraces and waltzed along the walking street. This meant that the dolls were easy to spot a mile away and the trail of all singing all dancing smurfs led back to Ralph.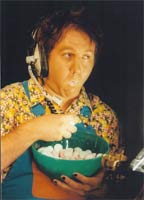 Ralph was sentenced to 10 years with 9 years off for good behaviour. During this time he had to do community work and this involved helping the local nuns set up a convenience store.
The Sisters of Damascus had decided that they should get some money coming in for their church which was in ill repair and given the Sunset Cove residents' love of shopping thought that a store would be the best bet. Sister Darla loved food and she insisted that the store be a grocery one.
Ralph helped the sisters build the store from the ground up. Darla was very good with a hammer whilst Sister Deirdre proved to be a whiz with a saw and Sisters Doris and Daisy were mean with screwdrivers.
In no time at all the place was finished and it was up to Sister Delilah to paint the place in a gorgeous damson colour.
The Dairy was complete and a lasting friendship was built between the sisters and Ralph.
Sisters Delilah and Daisy decided to stand back and allow the others to run the place whilst they taught the local kids how to breakdance which they thought was another good way to fund raise.