DOROTHY'S GUIDE TO SURFING
| | |
| --- | --- |
| "Dorothy here, I've only been surfing since I moved to Sunset Cove but I think I've found my calling. There is something so invigorating and exciting about it and of course you're always searching for that perfect wave… | |
THE EARLY BEGINNINGS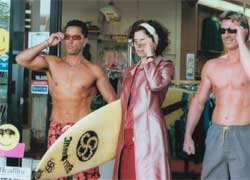 Firstly you have to at least go down to the beach and watch other people surfing. If this doesn't put you into a dream-like state and have you dancing along the beach wanting to dive on in and steal someone's board then perhaps you're not really destined to be a surfer.
Next you hook up with some spunkster of a surfer and tell him how much you just want to ride a wave. If you're lucky he'll take you under his wing and give you a few tips.
Then it's time to get your first lot of gear. Go to your local surf shop and find a board and there's heaps of different shapes and sizes. I got a fish shaped board in black – pretty rare but the guy behind the counter was sure this was the board for me. But that was my first board – I'm onto my sixth now.
Don't forget your wax, your wetsuit, your fake tan, your hairstyle, your surfy clothes and then of course you need a cool wagon to put all your gear in – unless you live in Sunset Cove and then it's cooler if you walk down the street with it. Hey, if you're a real surfy then you will probably spend every last penny you have on looking the part.
TAKING LESSONS
Certainly don't expect to be a surfing legend within a week. I mean just getting your wetsuit on can be a mission in itself. Never try to put it on wet or you'll end up stuck in the thing in a weird position and will have to embarrass yourself by asking someone to help you.
Once you've squeezed into that you might want to take it for a test run. Take a flying leap into the sea and hope that it helps keep you afloat, keeps you warm and the brighter it is, the better – gotta watch those sharks.
Some people choose to swim in their jeans which is pretty risky and Grampa once knitted me a wetsuit and I was unbelievably lucky to survive! The wool got sopping wet and dragged me under and the next thing I knew Silver Lining was giving me mouth to mouth on the beach. I tried it again the next week but he evaded my calls for help.