JOSH'S GUIDE TO SPENDING MONEY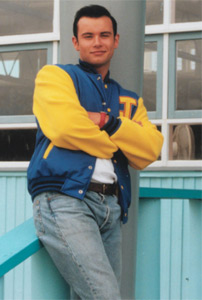 My favourite store is my Dad's store, Montana and Sons. It is the biggest place you can ever begin to imagine. It is 94 storey's high and takes up 10 and a half blocks. There are 400 elevators, 3300 escalators and 2 zillion gold steps. It stocks everything you could ever want from coffee coated kidney stones to the hat worn by Lord Admiral Nelson at the Battle of Trafalgar.
So, I like to go there a lot and all the staff know me so I have just the best time. My favourite floor at the moment is floor 27, which is crammed full of interactive TV units; remote controlled wireless DVD phones and dehumidified personal oxygen stations.
My Dad and Mom are just as proud of me today as they were the day I was born – a bit prouder than then actually because I have learnt how to use the potty now. They know that I will be a good independent son because they have taught me how to spend like the best of them.
I've won awards for my spending and people come to me if I can show them how to spend money. I'm always happy to help but I just wish that they'd remember where they put their own wallets sometimes.

I have to say that spending money is just so easy. It's only a problem if you have too much cash to fit in your wallet but you can always get someone else to carry some for you – but sometimes they run away and you don't see them again which I find kinda weird…
Josh's Top Ten Tips for Spending Money
1. Go out early, the earlier you leave the house the more you'll come home with.
2. Every time you spend a dollar, spend another one.
3. The best thing that money can buy is more money.
4. Gold is nice but platinum is better.
5. Start at the left of the store and work your way around so you don't get dizzy.
6. Find out where the washrooms are in case you need to go.
7. Stop for food and drink a lot and think about your purchases, it makes your smile really white which makes you a real chick magnet
8. Get the sales assistant to put your purchases in a bag – it makes things easier to carry that way.
9. If you buy animals make sure that you also buy them some food or they'll get hungry.
10. Keep looking at your reflection – the weird lightbulbs they use in shops can make you look like you've got real bad zits.