OCTAVIA'S GUIDE TO THE SECRET SERVICE
| | |
| --- | --- |
| Hello, my name is Octavia Vermont and I'm a Secret Service Agent (Don't tell anyone). Here's my Secret Service Guide to being a Secret Service Agent. | |
Protection
Everyone needs protection because there are some pretty nasty people in the world. The Sunset Cove Secret Service are situated in Sunset Cove because it's a place of high activity. People are flocking to Sunset Cove all year round just to catch the sunshine. All sorts of dodgy people pass through and the Secret Service have to protect the young citizens of Sunset Cove.
The Secret Service also protect the Mayor of Sunset Cove. She's a very high profile woman and her engagements around the city are kept very secret.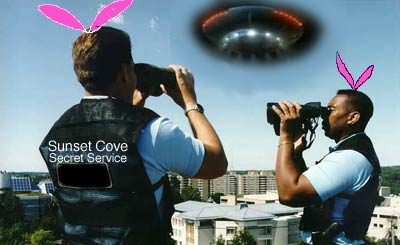 Our Mission Statement
"To investigate and protect every living being in the Sunset Cove area from aliens, sea life, neanderthals, critters, ugly people etc. If any term, provision, covenant, or condition of this agreement is held by a court of competent jurisdiction to be invalid, or unenforceable, the rest of the agreement shall become null and void and we shall be in no way affected, impaired or invalidated and the citizens could die".
Undercover Operations
Many undercover operations are simultaneously underway at any one time. All operations are taken seriously.
All undercover operations start with Who, What, Where and When. These officers are highly trained and their identities are kept secret. They decide what the threat is, who the threat is from, where the threat might appear and when it might happen. Who has been known in Sunset Cove for years and last year was award the Purple Square for services to the city.
The latest threat that came by Sunset Cove was a brass band. They snuck into town and started parading down the street making a racket! The Secret Service were on to them in a flash and they all disappeared quietly and unsuspiciously as brass bands should do. Protecting the city from tarnishing it's reputation is number one of the Secret Service's priorities. Sunset Cove is known for it's very good looking people, it's winning smile and it's all year round sun.