SABRINA'S GUIDE TO ATTENTION SEEKERS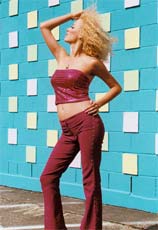 Only the only people that turned up were people who wanted some extra attention, not people who needed help with their Attention Seeking ways.
Top Places to find Attention Seekers
1. In the library – I mean, who would like go there for fun?
2. Sitting at the bus stop – would you sit in a bus stop if you weren't after attention?
3. Walking the dog – like, dogs are meant to go under your arm or in your handbag!
4. Walking – why walk when you can like, glide on your 3 inch stiletto heels?
5. At the hairdressers – like, your hairdresser should come to you.
6. In the supermarket – if you have to buy your own food you are so not cool.
7. At school – there are like more Attention Seekers per capita at school than in the entire town of Sunset Heights.
8. In the canteen – eating school food? Like lame-o. Bringing gourmet sushi? Like awesome.
9. At the beach – those lily-white nerdballs make me barf. Get back inside geeks!
10. At the traffic lights – I mean, really, who hangs out at traffic lights? What are they there for? Attention Seekers.
There were little old ladies who wanted cuddles and dogs that wanted walking, kids who needed babysitting and one old timer (who was so totally wrinkly it made me pukey) who wanted to adopt a snail because he didn't get enough attention from his family.
Anyway, between you and me and the door, I kinda get a kick out of Attention Seekers in a secrety kinda way. It's actually awesome to watch them watch me and try to figure out how to become so totally cool and hip. And then watch them do stupid things like wear little pink skirts and try to get their hair to look like mine.
But if you can't stand Attention Seekers and there are like too many to handle, I think that the secret to dealing with them is this … do not like give them any attention or you'll totally just encourage them.
But then again sometimes you just can't help yourself!