SABRINA'S GUIDE TO ATTENTION SEEKING
"When I was six years old my mother told the lady in the shop that I was an Attention Seeker. That was so totally lame-o. I don't need to seek attention, it comes to me naturally – but I do know how to spot an attention seeker"

.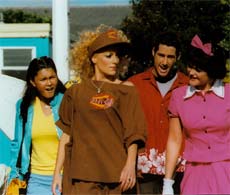 Like, Attention Seekers are Grade A donuts. Totally choc dipped. With sprinkles. They are so lame-o it's not funny and my teeth hurt when I look at them.
In Sunset Cove there are a lot of different people around. Like, some like to wear women's clothes (when they are so not a woman) and some like to eat potato chips, which is so, like Yuk.
Top Ten Tips on Attention Seeker Spotting
1. Look out for the kid who talks to rabbits
2. Fake tan is like a totally total giveaway
3. Brown hair is like so totally gross on chick
4. Glasses mean that the kid is a nerd and all nerds are attention seekers
5. Guys that fall off their skateboards are lame-o and attention seekers
6. Chicks with hairy pits are so totally wrong but they are attention seeking – why else would they forget to shave – like, yukola
7. Guys that wear pink fluffy G-strings – but that's kinda cute too
8. Old women who try to look young by wearing lots of lipstick and fake eyelashes – look at Violet – puhleease!
9. Twinsets and pearls – are you like serious?!
10. Kids with big ears should like stay on the moon
But everything is accepted here because we're all so totally like, nice. Nobody minds who wears what or if you take your dolphin into the Princess Diner or whatever. Whatever!
But one thing that we all hate (well, I do anyway) and that's Attention Seekers.
There are some weird geeky kids that think they can be in the 'in crowd' if they like act like they're cool or something, which they're so totally never gonna be. As if.
This one geeky nerdball, he likes to steal pink fluffy G-strings. Like that's gonna make him numero uno. Not.
Attention Seekers have a real problem and there was a club set up like alcoholics anonymonimous or something but it was for Attention Seekers.