SABRINA'S GUIDE TO FASHION

| | |
| --- | --- |
| It's all about fasion darling!! If you don't look right then you just can't be with the IN crowd, alright!! I'm the fashion queen and here is my Guide to Fashion. | |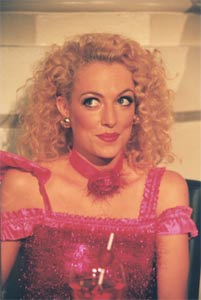 A History of FashionFashion and what is fashionable has been around for years. Clothes have changed dramatically over the centuries and they continue to change every year. While some things outdate themselves, they can get a comeback many years later – fashion renews itself.

In around 500BC clothes were fairly simple. They consisted almost completely of one piece of fabric draped around the body. In Greece and Rome this was the most popular attire and was called a Toga and was worn with Roman Sandals.

Jumping a few years ahead – two thousand years later around 1500AD clothes were very extravagant. Women wore large gowns with puffy sleeves, a very restricting corset, a headress in their hair and large pieces of jewellry. Men wore jerkins with puffed sleeves, tights, codpieces and sandals.

Until recently (the last 100 years or so) women covered their body from head to toe. Their body was only ever to be seen by their husband.

With the start of the war in the early 1900's it started to become acceptable for women to wear pants.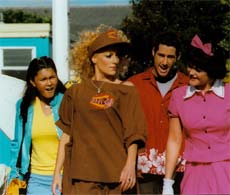 My Fashion
My favourite subject! I absolutely love fashion. I live for buying clothes which is why I need to marry a rich man and Josh Montana is just that man!
I like to wear all the latest labels and have some very nice clothes from some of the most famous designers like Versace, Valentino, and Christian Dior.
Colours are so important. My favourite colour is pink as you well know.
Fashion Faux Pas!
Wearing your underwear OVER your clothes!

Boxers not briefs!

Unmatching socks

Pink and Orange – never mix!

White wrist bands
Recently at Atlantis High we had a deal with a fashion king in Sunset Cove. He introduced Rebelz Cool Wear
to the school. Surprise surprise I was picked to model it. Who else could they pick – I was obviously the best looking person for the job.
Rebelz Cool Wear is just fantastic! They have modern designs with funky new looks. It just made my popularity at Atlantis High even better!