SABRINA'S GUIDE TO FASHION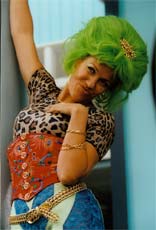 The disasters of Sunset Cove Really! Some people in Sunset Cove have no idea! If you want to be cool you have to look good. Giles Gordon is a perfect example of bad taste. Being such a geek he really needs to dress himself better – boring shirts and pants just doesn't do it for me!

And Violet! Violet is so old! What on earth does she think she's doing trying to be sixteen again!

I would give her some tips but I just don't have the time… She has helped me get into some of the most expensive clothes around I suppose. Every week we have someone different sponsoring the school and the fantastic clothes they lend me just make school all worth while.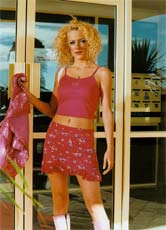 I couldn't stand being at school if it wasn't for the clothes. Snotty little geeks, and spotty little nerds. I'm sure everyone could be cool if they wanted to. Maybe I should run a "Be Cool" week at school just to teach them how.
Pink
I'm thinking of bringing out my own fashion label – "PINK". I just know it would be adored in Sunset Cove.
I've even designed a brand new Fluffy Pink G String and some lycra/crocodile skin tights for Silver Lining.
Some pink "space ears" for Beanie,
A lovely twin set with polka dots for Sophie – pink of course.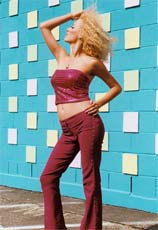 And I've even thought about accessories – A pair of pink "horned rimmed glasses" for Mr Dorsey and a pink striped football for Coach Shane.
Fashion is great – it's whatever you want it to be!