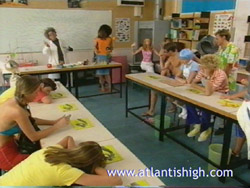 Mr Dorsey's Lab – This of course refer's to Mr Dorsey's incredible laboratory not his labrador puppy.
There are so many bubbles in here packed inside miles and miles of plastic tubing and beakers, bunsen burners and jars containing more bizarre things than even the kitchen at the school canteen.
Mr Dorsey loves to draw a variety of pictures on his humongous blackboard – he is expert on anitomical diagrams, biological pics – and he can even do a pretty mean Mona Lisa drawing.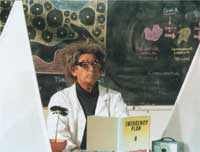 He has even been known to doodle the occasional cartoon – often featuring many reptiles and lizards. Why could this be?